A broken pool pipe can lead to major damage. Leave the detection and repair to Mid State!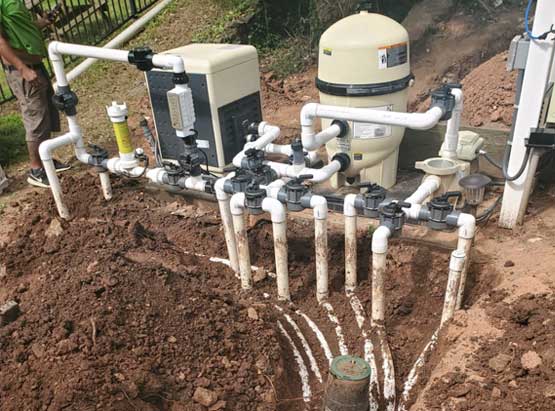 Are you adding more than one inch of water a week to your pool? Has your equipment broken down unexpectedly? If so, you may be in need of inground pool leak repair.
Even the smallest pool leaks can lead to big consequences. Whether it's costly water bills, increased chemical consumption or surface deterioration, your enjoyment—and your property—can be at risk. Don't wait until it's too late. Have our experts detect and repair the damage today.
You Need Expert Pool Leak Detection at Your Service
Pool leaks can be a challenge to find—but not for Mid State Pool Liners. Whether it's a noticeably broken pool pipe or a tiny hole impossible to see, our swimming pool leak detection/repair team has you covered. We use a systematic approach to pinpoint the exact location of the leak—faster and more efficiently than most other pool experts.
Using advanced leak detection technology and non-toxic dyes, we analyze the structure from above and below the water surface to locate structural leaks that can easily go unnoticed. Plus, we make sure to communicate with you every step of the way, so you know exactly what to expect. With our expertise, pool leaks don't stand a chance.
Call Our Swimming Pool Leak Repair Team Today
You spend a lot of time enjoying your swimming pool, but are you spending even more money to keep it full? Our leak detection experts are here to help. We can find, repair and even prevent pool leaks that destroy your swimming pool and threaten the surrounding landscape—saving you thousands of dollars in future repair needs.
If you live in the Monmouth County, Middlesex County or the surrounding area, contact our inground pool leak repair professionals before it's too late.
Call 732-390-8080 for a consultation and free estimates.